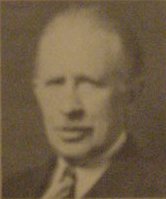 W. T. Benda, from his book. c.1943
HISTORY
Wladyslaw Theodor Benda was born on January 15, 1873, in Poznan, Poland. He was the son of musician Jan Szymon Benda and a nephew of the actress Helena Modrzejewska (known as Helena Modjeska in the United States). He studied art at the Krakow College of Technology and Art in his native Poland and at the School ofFine Arts in Vienna, Austria. He came to the United States at the very end of the 19th century to visit his Aunt Helena, who then lived in California. He stayed and moved to New York City in 1902, where he attended the Art Students League in New York and the William Merritt Chase School. Benda also studied under Robert Henri and Edward Penfield. He joined the Society of Illustrators in 1907, the Architectural league in 1916, and became a naturalized American in 1911. He was a member of the Society of Mural Painters. He remained in NYC for the rest of his life. Benda married Romola Campfield, and they had two daughters, Eleanora and Baria, who were both artists.
Starting in 1905 Benda was primarily a graphic artist. He illustrated books, short stories, advertising copy, and magazine covers for Collier's, McCall's, Ladies Home Journal, Good Housekeeping, Theatre Magazine, and many others. Many publishers regarded Benda as their go-to artist for his dependability and artistic abilities. In his time he was as well known as Norman Rockwell, N.C. Wyeth or Maxfield Parrish. During the 20s and 30s every publication sought the innocent look of "the American Girl," but Benda's alluring women were often exotic and mysterious, not homespun pretty like the girls of Harrison Fisher or Howard Chandler Christy. Benda's women were often darkly compelling, more foreign, and managed to step beyond the norms of his day.
Benda was fiercely proud of his Polish heritage and became closely associated with the Polish-American cultural institution, The Kosciuszko Foundation (see below). During the two World Wars he designed many posters for both Poland and America. He was honored with the 'Polonia Restituta' decoration by the Polish Government following World War I.
Beginning in 1914, Benda was also an accomplished maskmaker and costume designer. His sculpted paper-mache face masks were used in plays and dances and often in his own paintings and illustrations (see 2, 4 & 5 above). They were used in Masques or Miracle Plays in New York City at venues like the Coffee House. Benda also created the masks for stage productions in New York and London for such writers as Eugene O'Neil and Noel Coward. He became so well known as a maskmaker that his name became synonymous for a life-like mask. Like Google® is to web searching or Coke® is to soft drinks, any life-like mask was often referred to as a "Benda mask" whether it was of his design and making or not. Benda also created "grotesque" masks, which were more fantasy or caricature in nature. Benda created the original mask design for the movie The Mask of Fu Manchu, which was originally published as a twelve part serial in Collier's Magazine from May 7, 1932 through July 23, 1932. The cover of the May 7 issue presented a stunning portrait by W. T. Benda (see #4, above: for a more in-depth article about the Fu Manchu stories, see here.) In the latter stages of his career, Benda spent less time doing illustration and more time making masks.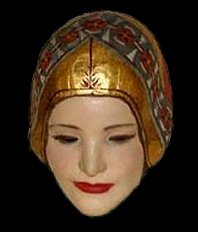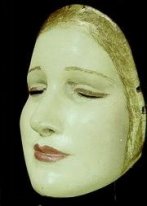 Two masks by W. T. Benda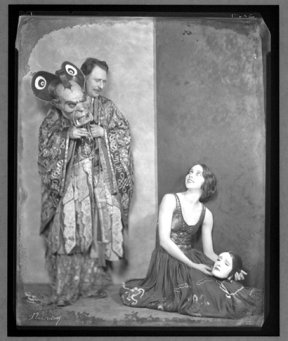 W. T. Benda with a grotesque mask,
and the dancer Margaret Severn with a lifelike mask.
Articles by and about Benda and his masks appeared regularly in many of the same magazines and publications of the day that bore his illustrations. In the 1930s Benda authored the Encyclopedia Britannica entry on masks. He also wrote the book Masks (Watson-Guptill, 1944), a study of his own designs and unique construction techniques.
Masks shown with dust jacket (left) and without.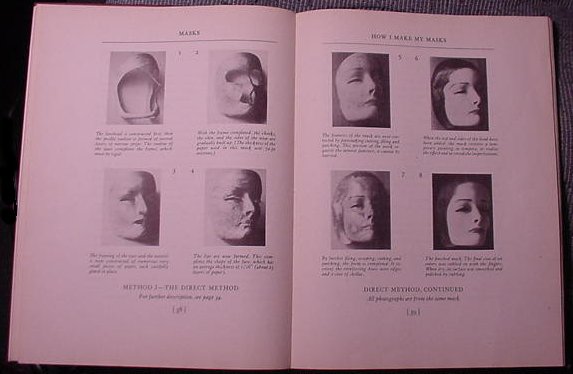 A page from the book Masks showing Benda's unusual technique.
Benda died at age 75 on November 30, 1948 in Newark, New Jersey. An artist to the end, he had suffered a massive heart attack while waiting to give a demonstration of his masks in the auditorium of the Newark Public School of Fine and Industrial Art.
HELENKA
I first became interested in Benda several years ago when I learned of his book, which is somewhat rare and therefore hard to find. I now own three copies, including one that is inscribed and autographed by Benda. His masks are even rarer - only a few hundred were made by Benda in his lifetime. I held a fond, wistful desire to discover and own one of his masks, but the only versions I could find were either well beyond my means at the time, or not for sale.
Through an odd set of quirky circumstances, in the Spring of 2003 I happened to be on eBay. It was a rare visit after months of not browsing their listings. About to sign off, I randomly did a search on Benda's name hoping perhaps to find a magazine article or illustration. To my complete amazement, one of Benda's masks had been listed only hours before! It was on a five-day listing, and if I hadn't looked when I did I would never have known of the offering. I emailed the seller, did a bit of research and eventually became the winner bidder of Helenka.
Helenka, 1946 by W.T.Benda
Although this mask does not appear in his book, she appears to be in perfect condition and quite authentic, from the gold-leafed hair to the red Japaning on the inner surface. She's signed and dated on the inside, and there are two handwritten labels affixed: one simply says "Helenka" and the other has the price "$800.00." Both seem contemporary to the artist and may be in his hand. $800.00 may be the price that Benda sold it for, or it may be the price when it changed hands in the 1950s. To the best of my knowledge, I am the fourth owner (including Benda).
A sharp-eyed Benda fan sent me a link to the picture below, which appears to be Benda working on Helenka herself. This was originally published in the September 1947 edition of Mechanix Illustrated magazine, and the timing is right (Helenka is dated 1946). We can't be 100% sure it is Helenka, but I've compared it to the mask I have and what I can compare is very, very close. To view the original article, go here.

I'm always looking for more works by Benda, especially his masks or anything mask related (sketches, articles, etc.) If you have a mask for sale, write me! I'm also interested in artworks, articles, photos, personal items and anything else related to W. T. Benda and his work. If you have but don't want to sell an item, I'd be interested in photocopies of articles and/or photographs of his other works, especially masks - and especially masks not shown in his book or in published articles. And I'm always happy to hear from fellow Benda fans!
Additional Information
The Kosciuszko Foundation in NYC has information about Benda and holds several of his works, some of which were executed expressly for the foundation (among them portraits of Queen Jadwiga of Poland and General Kosciuszko). Benda acted, in effect, as the "artist-in-residence" of the foundation from the time of it's opening until his death.
For an in-depth article on Benda and his work, see Illustration Magazine #13 - I was privileged to be of some assistance and learned much more about the man when the article was published. Click here for their website, and select the archives.
Portions of this page were inspired by: Grapefruit Moon Gallery, Lawrence Knapp, and a smattering of other sources.
Benda is referenced in Illustrators of Children's Books: 1744-1945, by Mahony, Latimer, and Folmsbee: Horn Book Inc., Boston; 1947.
A tribute to W. T. Benda's illustrations has been posted to YouTube, available here: http://www.youtube.com/watch?v=ky4uUTYHnm4
---
Copyright © 2000-2012, Lawrence D. Wood

Permission is granted to copy, distribute and/or modify this document

under the terms of the GNU Free Documentation License, Version 1.2

or any later version published by the Free Software Foundation;

with no Invariant Sections, no Front-Cover Texts, and no Back-Cover Texts.

A copy of the license is included in the section entitled "GNU

Free Documentation License".
This page and this page alone, above this line, is offered under the GNU Free Documentation License, and is subject to the conditions granted thereto.
No other page or portion of this website are granted such license, and are Copyright © 1985-present by Larry Wood and Fantasy Guilde Studios. For clarification, please contact me.
---

Home | Masks | Mask Care | Shows | Bio | Links | Scenes | Ordering | Email